Today the US House of Representatives passed HR 1904, the Oak Flat Land Exchange with a 235 – 186 vote.  The House also voted several amendments to the bill that w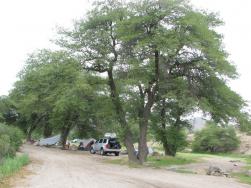 Oak Flat Campgroundere offered by Representatives, Grijalva, (D-AZ), Markey (D-MA), and Lujan (D-NM).  This is the first time the land exchange bill has made it through the House in the 6 years it has been introduced.  The bill has never made it through the Senate and the House version of the bill is so bad, it will have tough going in the Senate.  The bill continues to face opposition from both the Forest Service and the Department of Interior.

While the vote is disappointing, it was hardly unexpected given the anti-environmental make up of the House.  Still, it was rewarding to see a great deal of pressure put on the House from all walks of life opposing the Oak Flat land exchange.

Arizona Mining Reform Coalition Director, Roger Featherstone, made the following comments on the Bill passage:  "Although we'd hoped that reason would prevail, today's vote in the House of Representatives is no real surprise.  It's clear that far too many Representatives care more about giving favors to huge, wealthy foreign mining companies than they do about protecting our public lands, our environment, our religious freedom, and our communities.  We are confident that this special interest piece of legislation is dead on arrival in the Senate as cooler heads prevail.  This bill is bad for America.  Our struggle to protect Oak Flat, Gaan Canyon, and Apache Leap is a long way from over."