Secretary of the Interior Salazar is contemplating the withdrawal of over a million acres of public land around the Grand Canyon from uranium mining.  The Bureau of Land Management has just relased a draft Environmental Impact statement shoing the impacts of the withdrawal.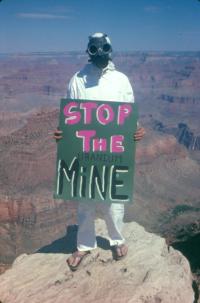 No Uranium Mining Near the Grand Canyon!
The impact statement looks at 4 alternatives.  One of these, Alternative B, calls for the withdrawal of all 1,010,776 acres. We support this alternative.  The Grand Canyon is to important to risk being polluted by uranium mining.
The BLM has extended the deadline for comments until May 4.
To submit comments, go to the Sierra Club's alert or go to www.protectgrandcanyon.org.
See a video to learn why we should protect the Grand Canyon from uranium mining.